1 Million Auto Insurance Policies Sold!
Google By Brian Marquis
I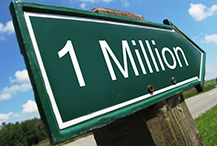 t was announce through Big Independent Group (BIG), an insurance industry group in California, that Alliance United has issued their one millionth policy. The statement read
Alliance United Insurance Services achieved a new milestone! On behalf of Alliance United Insurance Company, on its
Ten Year Anniversary, our One Millionth Policy has been issued.This milestone coincides with the Tenth Year Anniversary of Alliance United Insurance Company (AUIC)
under Alliance United Group (AUG). Alliance United
provides only Automobile Insurance solely in California.
AUIC received its certificate of authority and issued the first policy effective January 15th, 2014. Since then, over
1 Million Californians have chosen Alliance United
Insurance Company for their Auto Insurance from Independent Insurance Brokers throughout California.
This is a great accomplishment for the California-based carrier who works in the non-standard space. Although there are non-standard carriers providing state minimum coverage in Illinois (IL) and Indiana (IN), as well as Arizona, Nevada and Texas, not many get to this milestone. Congratualtions Alliance United! You have demonstrated that you are serving the non-standard auto insurance space very well.